Posted by Rajesh Pandey on Nov 02, 2013 | No Comments »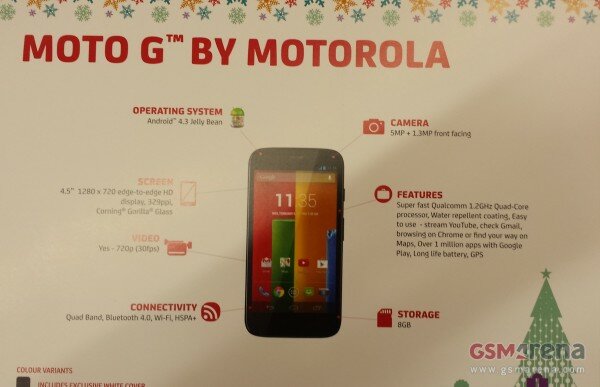 Rumors about Motorola working on a slightly cheaper variant of the Moto X have long been floating around. However, with no substantial leaks, there was little to back the rumors up.
However, over the last couple of days in all the Nexus frenzy, @evleaks has leaked the full specifications of the Moto G along with its image. Today, the folks over at GSMArena have received another tip which pegs the Moto G as a smaller and chunkier brother of the Moto X, minus all its unique features.
The G will be be sporting a 1.2GHz quad-core Qualcomm processor, along with a 4.5-inch 720p display and 8/16GB of internal storage. Other specs include a 5MP camera at the back, a water repellent coating, Bluetooth 4.0, GPS and NFC. The leaked image also suggests that the handset will come with interchangeable back panels, a 1950mAh battery, and possibly dual-SIM capabilities.
With the holiday season approaching fast, it won't be long before Motorola announces the Moto G.
View the original article here
(17)