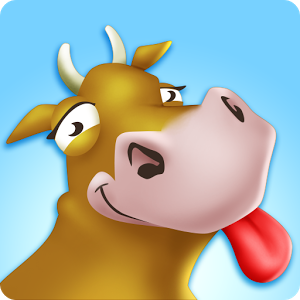 Current Version: 1.17.95
Requires Android: 4.0.3 and up
Category: Casual
v1.17.95 update:
• More Land Expansions!
• New machine: Smoothie Mixer
• New pet donkey: the Andalusian donkey completes our beloved donkey family.
• New decorations: Rose fences in 6 different colors, 4 different new paths and the new rose arch.
• Several neighborhood improvements (see our forums for more details)
• We have something VERY special (and fluffy) planned for Easter.
• Our next update to come could be the biggest in Hay Day's history. Stay tuned

–
03/12/14 Bugs fixed and hiccups cured!
Overview:
Hay Day is a totally new farming experience with smooth gestural controls lovingly handcrafted for your Android device.
***For a limited time, receive 180 Diamonds for only $2.99 (regularly $6.99)!***
PLEASE NOTE! Hay Day is completely free to play, however some game items can also be purchased for real money. If you don't want to use this optional feature, please set up a PIN from within your Google Play app for added protection.
Get back to nature and experience the peaceful, simple life of working the land and rearing chickens, pigs, cows and sheep.
Make a name for yourself by harvesting crops and building bakeries, sugar mills and dairies that turn your fresh produce into wholesome goods. Trade your goods with your friends at your very own roadside shop and by advertising your products in the newspaper.
REVIEWS
5/5 "This game is so awesome and unique! Coolest game I had ever played. Thank you Hay Day!!!!!
"
5/5 "Both calming and addictive. My husband and I both love this game"
5/5 "Really fun game to play with the family"
5/5 "Such a fun and addicting game! The animals and all they do is super cute – never a dull moment!!! Love it"
5/5 "I love this game, great players!! Always something to do and always something new!!!"
FEATURES
• FREE TO PLAY!
• Produce delicious food using natural ingredients from your very own farm
• Buy and sell your healthy, farm-fresh produce at the roadside shop
• Play and trade with your friends on Facebook
• Easy, fun touch gestures that mimic real farming activities
• Raise and care for funny farm animals with quirky personalities!
• Catch dozens of fish between harvests with just the swipe of a finger
• Beautiful animations and sounds. Your farm really feels alive!
• Your farm is fully customizable — make it your very own
Having problems? Any suggestions? We would love to hear from you! You can reach us or find us on Facebook at http://facebook.com/haydayofficial
Note: A network connection is required to play
Privacy Policy:
http://www.supercell.net/privacy-policy/
Terms of Service:
http://www.supercell.net/terms-of-service/


Download via Google Play:

Hay Day 1.17.95 on Google Play
Download :

Download Hay Day 1.17.95
DOWNLOAD CENTER >>

Cynogenmod 11

,

ROM.ZIP(KITKAT)

,

ROM.ZIP(JELLYBEAN)

,

ALL USB DRIVER