With the full review of the LG G Pro 2 now complete, it's time to turn your attention to our battery test and see how LG's latest phablet fares. One of its main competitors is going to be none other than the Samsung Galaxy Note 3, so it's going to have to do well to stand a chance.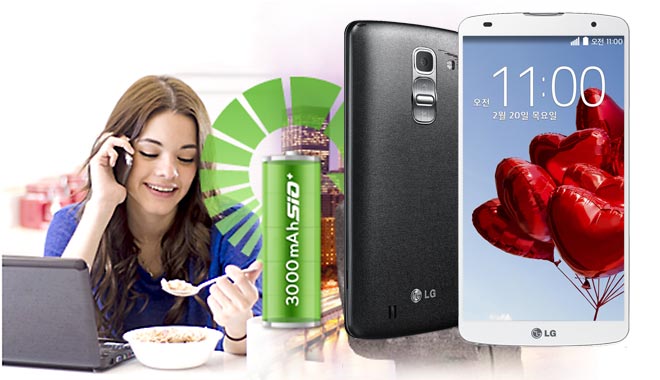 And chances are it will, when you consider that both phones pack equally large 3,200mAh batteries, have the same chipset and have 1080p displays close in size
There are some differences, too. The LG G Pro 2′s 5.9″ display isn't only a bit larger than the Note 3′s 5.7″, but it is also a True IPS+ LCD, not Super AMOLED. On the software side, both are running Android 4.4 KitKat, so we'll see how much of a good job LG has done on its Optimus UI and if it's as power efficient as the TouchWiz UI on the Note 3.
Starting up with the talk time battery test. Here, the LG G Pro 2 scored the great 25 hours and 37 minutes. That's way ahead of the Note 3′s score of 18 hours and 12 minutes. The HTC One max is close by at 22 hours and 13 minutes.
Talk time
Sort by Label
Sort by Value
Expand
Galxy Tab Pro 10.1 (S800)46:44
Nokia Lumia 152028:34
Sony Xperia Z126:53
LG G Pro 225:37
LG G Flex25:19
Huawei Ascend Mate25:12
Alcatel One Touch Hero25:02
LG G225:01
Oppo N125:01
Pantech Burst4:46
Next up is web browsing, where the LG G Pro 2 achieved another respectable result. At 9 hours and 31 minutes, it's virtually identical to the Galaxy Note 3.
Web browsing
Sort by Label
Sort by Value
Expand
Sony Xperia C12:45
Samsung Galaxy S4 mini9:47
Samsung Galaxy Note 3 Neo9:43
Alcatel One Touch Hero9:40
Samsung Galaxy Core LTE9:37
Galxy Note Pro 12.2 (Exynos)9:33
LG G Pro 29:31
LG G Flex9:31
Galxy Tab Pro 10.1 (S800)9:16
Motorola RAZR MAXX (ICS)9:12
Apple iPad mini9:05
Apple iPhone 5c9:05
Samsung Galaxy Nexus3:01
However, the video playback test wasn't so successful for the LG G Pro 2 and the phone scored the pitiful 5 hours and 49 minutes. That's quite ironic, considering it's flexible brother, the G Flex, tops the chart with nearly 20 hours of video playback. We did re-run the test, but the result was pretty much the same, leaving us to think that something's not particularly optimized in the video playback department. Hopefully, LG will take care of that with a software update shortly.
Video playback
Sort by Label
Sort by Value
Expand
LG G Flex19:57
Nokia Lumia 13209:17
HTC Evo 4G LTE9:07
Sony Xperia Z Ultra8:45
BlackBerry Z108:44
LG Optimus G Pro8:40
Samsung Galaxy Grand 28:41
Nokia N98:40
Samsung Galaxy Mega 6.38:34
HTC Butterfly8:28
Samsung Galaxy Note8:25
LG Optimus GJ8:15
Nokia Lumia 7103:27
All things considered though, thanks to its stellar stand-by performance, the LG G Pro 2 scored an endurance rating of 61 hours. This means the phablet will last you two and a half days if you used it for one hour of video playback, one hour of 3G talks and one hour of web browsing each day.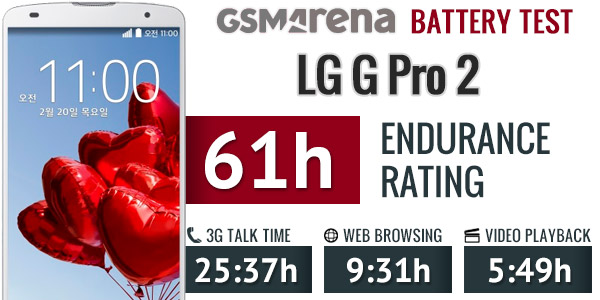 DOWNLOAD CENTER >>

Cynogenmod 11

,

ROM.ZIP(KITKAT)

,

ROM.ZIP(JELLYBEAN)

,

ALL USB DRIVER