Samsung Galaxy Grand 2 is running on the rather low-consumption Snapdragon 400 chipset with four 1.2GHz low-powered Cortex-A7 processor. Even though the SoC may save you some power juice, the big 5.25″ screen estate that has to be lit up won't be generous with the 2,600 mAh battery.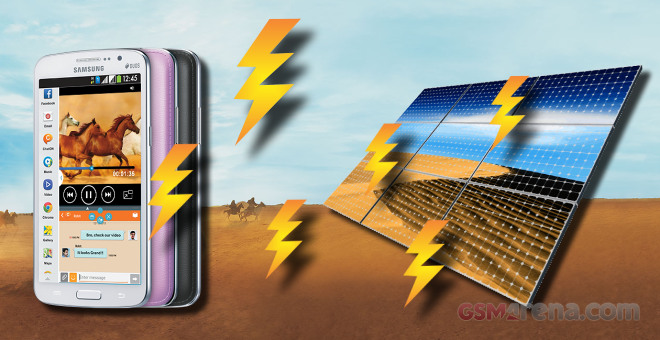 Now that our review is live on our homepage, we are also ready to share the full breakdown of our dedicated battery endurance test.
First, we've put the Galaxy Grand 2 on a call with another device. Naturally the screen was turned off, so we've expected pretty much great numbers. Note that even though both SIM slots were occupied by active SIM cards only one of them was actually in a call. This explains the amazing endurance of almost 20 hours here.
Talk time
Sort by Label
Sort by Value
Expand
Nokia Lumia 152028:34
LG Optimus G Pro20:45
Sony Xperia Z1 Compact20:42
Motorola DROID RAZR MAXX20:24
Motorola RAZR i20:07
BlackBerry Q1020:00
Samsung Galaxy Grand 219:55
Samsung Galaxy Mega 6.319:54
Sony Xperia SP19:49
Samsung Galaxy Note 318:12
Samsung Galaxy S4 (S600)18:03
Sony Xperia ZR17:48
Pantech Burst4:46
Our second routine tests the web browsing battery endurance. The Galaxy Grand 2 went for 9 hours and 5 minutes before its battery went flat. This might not be an amazing achievement, but it is an excellent one for a device with such a big display.
Web browsing
Sort by Label
Sort by Value
Expand
Sony Xperia C12:45
Galxy Note Pro 12.2 (Exynos)9:33
LG G Pro 29:31
LG G Flex9:31
Galxy Tab Pro 10.1 (S800)9:16
Motorola RAZR MAXX (ICS)9:12
Samsung Galaxy Grand 29:05
Apple iPad mini9:05
Apple iPhone 5c9:05
Oppo N19:05
Samsung Galaxy Note 39:04
ASUS Nexus 7 (2013)9:03
Samsung Galaxy Nexus3:01
Finally, we've run a looped video on the Galaxy Grand 2 and its 2,600 mAh battery managed 8 hours and 41 minutes before reaching 10% capacity.
Video playback
Sort by Label
Sort by Value
Expand
LG G Flex19:57
Nokia Lumia 13209:17
HTC Evo 4G LTE9:07
Sony Xperia Z Ultra8:45
BlackBerry Z108:44
LG Optimus G Pro8:40
Samsung Galaxy Grand 28:41
Nokia N98:40
Samsung Galaxy Mega 6.38:34
HTC Butterfly8:28
Samsung Galaxy Note8:25
LG Optimus GJ8:15
Nokia Lumia 7103:27
Samsung Galaxy Grand 2 did great on all three battery tests, but failed under stand-by mode, which brought its overall rating down. It isn't unexpected since we've equipped the Grand 2 with two SIM cards, but still we hoped for lower stand-by draw.
Anyway, due to its low stand-by performance, the final endurance rating for the Samsung Galaxy Grand 2′s battery is 45 hours. This means you'll have to recharge your phone every two days if you are using the smartphone for an hour of web browsing, an hour of video playback and an hour of 3G calls each day.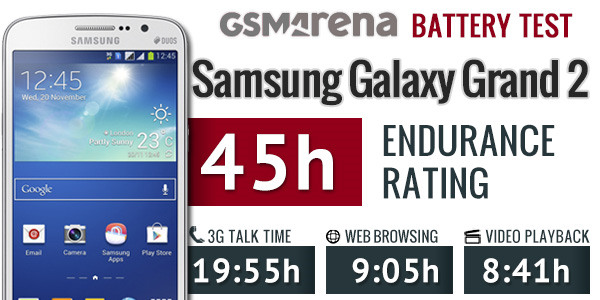 We are pretty much sure the single-SIM models (including the LTE one) will do better on stand-by thus providing you with even longer power autonomy.
DOWNLOAD CENTER >>

Cynogenmod 11

,

ROM.ZIP(KITKAT)

,

ROM.ZIP(JELLYBEAN)

,

ALL USB DRIVER