We venture again into the realm of phablets, one that at the beginning seemed to promise little more than a short burst of action, has become the scene of some of the most thrilling battles this industry has seen. The showdown we're about to witness though could well be the climax and a new beginning, all at once. A new dimension of a rivalry that's been going for years but is now more heated than ever.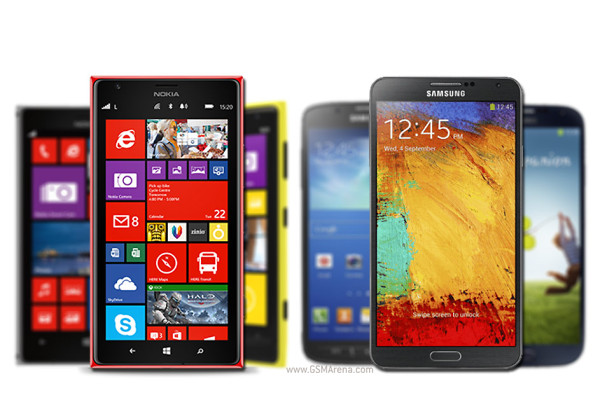 The Samsung Galaxy Note 3 emerged from every battle without so much as a scratch. The lineup has defined the segment and the third generation is an impressive all-rounder with rock-solid still imaging, probably the best video a phone can produce, processing power to spare and plenty of value-adding software features. The S Pen also makes sure the Note 3 caters to artists and creative in a way hardly any device would.
Nokia is only just entering the phablet space, but years of design and imaging excellence are finally made to count, now that Microsoft has finally taken the platform up to speed, enabling support for the latest in screen resolution and computing power. What once put the N and E series at the top of the smartphone food chain must be running in the veins of the Lumia 1520 too.
Ironically, it's phablets where Windows Phone is finally able to stand up to Android in a meaningful, unconditional way. In the end though, there couldn't have been a more appropriate scene for this battle. A battle that may never have happened. A killer droid against a droid killer.
Nokia Lumia 1520 over the Samsung Galaxy Note 3
A little more screen real estate
Bigger camera sensor – 1/2.5″ vs 1/3.06″ and higher resolution – 20MP vs 13MP
Optical image stabilization
FM Radio
Superior battery life
Four microphone setup, WDR audio recording
Offline maps and voice-guided navigation
Samsung Galaxy Note 3 over the Nokia Lumia 1520
S-Pen stylus input and good software backing
Notably Cheaper
More compact – 151.2 x 79.2 x 8.3 mm vs 162.8 x 85.4 x 8.7 mm
Lighter – 168 g vs 209 g
More RAM – 3 GB vs 2 GB
64 GB of built-in storage version
Slightly higher-clocked chipset – 2.3 GHz vs 2.2 GHz
4K (2160p) video recording over 1080@30fps
2 MP 1080p front-facing camera vs 1.2 MP 720p one
Temperature and humidity sensors
IR port for remote control functionality
These two are powered by identical Snapdragon 800 chipsets and have massive full-HD screens. It's Super AMOLED against ClearBlack LCD, PureView against S Pen, Nokia against Samsung, Android against Windows Phone. Apps and services is where the battle will be fought too. PureView and the software behind it, Nokia Music, Nokia Drive and Microsoft Office against the stylus-enabled apps and features, the latest TouchWiz treats, and the Google services.





Both devices at HQ
What will decide this one though is perhaps between the lines of the spec sheets, and the fight will be one to watch, we promise you.
DOWNLOAD CENTER >>

Cynogenmod 11

,

ROM.ZIP(KITKAT)

,

ROM.ZIP(JELLYBEAN)

,

ALL USB DRIVER