Google's latest Android distribution report for June has the latest version of Android, version 4.4 KitKat, continuing to gain ground over older versions. KitKat has gained 4.1 points over its share in May, and now stands at 17.9%. This came at the expense of almost every other Android build with the exception of version 4.2 Jelly Bean, which saw a growth of 0.6 points.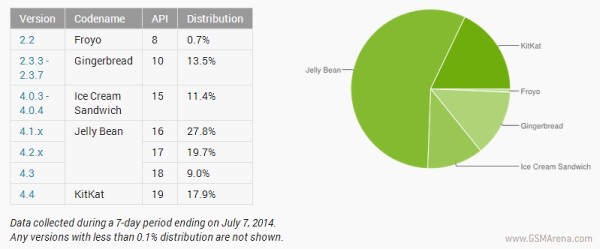 Jelly Bean still holds the lion's share of the pie, however, with the three API layers composing 56.5% of the overall Android landscape.
The more antiquated versions of Android, v2.2 Froyo and 2.3 Gingerbread have gone down by 0.1 and 1.4 points, respectively, and now combine for 14.2% of all Android smartphones.
Source
DOWNLOAD CENTER >>

Cynogenmod 11

,

ROM.ZIP(KITKAT)

,

ROM.ZIP(JELLYBEAN)

,

ALL USB DRIVER