There haven't really been sparks flying between Sony and HTC. It doesn't look like a rivalry capable of producing the kind of ripples one would expect of a clash involving Samsung and Apple, or LG and Samsung. Yet, HTC and Sony have been contributing to the platform no less – and are the two brands that make Android look its best, both on the inside and the outside.
You do know better than take this as a beauty pageant, don't you? These two have bigger things on their mind – and we don't mean world peace. Standard-setting build and finish are matched by just as premium internals. The very first flagships to break cover this year, these two still have what it takes to be season-shapers: connectivity, screen resolution, audio, imaging and processing power.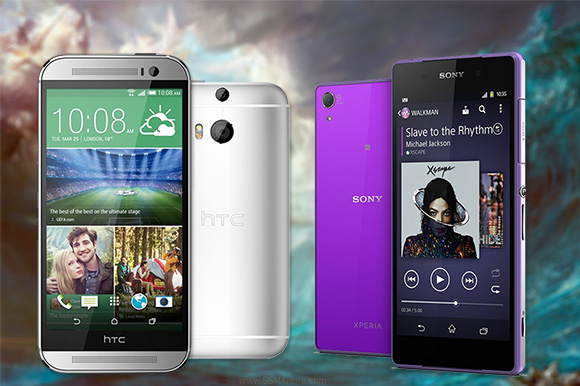 There seem to be the right dose of respect each way but not without a dash of envy in those looks they throw at each other. After all, what we have here is probably the best Android has to offer in terms of industrial design. Two unibody smartphones by makers that have taken the skill of molding aluminum and metal and glass to an art form. Both have quality stereo speakers, great displays and both are powered by the cutting edge in chipset technology. The very latest Android experience is available right out of the box.
Sounds like a level field, but let's look at what may tip the scales one way or the other.
HTC One (M8) over the Sony Xperia Z2
Metal unibody
Built-in amps for the stereo speakers
5MP front-facing camera
Dual LED dual-tone flash
Dual rear camera setup for depth-of-field effects
IR port and remote functionality
Sony Xperia Z2 over the HTC One (M8)
Water resistant and dust proof glass-coated unibody
Bigger display – 5.2″ over 5.0″
Higher still image resolution- 20.7 MP over 4 MP
Higher resolution video – 2160p over 1080p
More RAM – 3GB over 2GB
Bigger battery – 3200mAh over 2600mAh
OK, even those pretty evenly composed lists seem to give the Sony Xperia Z2 the upper hand. A bigger screen (at pretty much the same body size overall), bigger battery, higher-res stills and videos and more RAM carry more value perhaps than a higher resolution selfie cam and an IR blaster. And even if the HTC One (M8) should turn on the offensive, the water-resistant Sony Xperia Z2 can always take it where the enemy wouldn't venture.
The lack of IP certification and the questionable choice of camera are potentially HTC's biggest disadvantages. On the other hand, 4K videos spell storage trouble while stereo speakers in a water-proofed body are no match for an identical setup where each has its own amplifier. There're a lot of things to consider – is it raw image quality that matters the most or is it image sharing and creative effects? Is it audio you care the most about or protection against the elements?





HTC One (M8) and Sony Xperia Z2
If you're looking to get the very best Android has to offer, these two are definitely in the running. In terms of style and feel, Sony and HTC are not making it easier on anyone. But hey, we would be disappointed if they did. Yet, there's nothing more subjective than good looks – we'll try to get them out of the equation (but not out of the story) and hope it's still going to be a tight game.
DOWNLOAD CENTER >>

Cynogenmod 11

,

ROM.ZIP(KITKAT)

,

ROM.ZIP(JELLYBEAN)

,

ALL USB DRIVER