Samsung's Galaxy series has been showing no signs of slowing down and Samsung's shift into the limelight of modern technology can in large part be attributed to the emergence of the world's most successful smartphone line. A winning combination of R&D, production, and marketing, the S5 and its predecessors have become a measure for an entire industry to go by.
They say that excellence is contagious, and that's exactly where the LG G3 comes in. Crosstown rivals recently unleashed the G3 a whole two months after the S5, but did so with quite a splash. The G3 is the first device from a major manufacturer to sport a QHD screen, and it immediately ups the ante by rewarding those of us patient enough to wait until the second half of 2014 with a future-proof and robust competitor that can stand its own.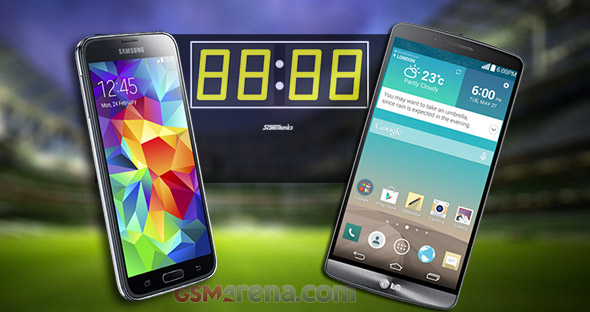 They say the greatest minds in history were spurred on by their most competent rivals, and that couldn't be truer than in the case of these two tech giants. Let's see if the G3 has enough to make up for lost time; below are the key features that set each apart. Keep in mind those differences are on paper only and the advantage might shift from one side to the other in the actual tests that we are about to undertake.
G3 over Galaxy S5
Bigger screen – 5.5″ vs. 5.1″
Higher resolution screen – 1440p vs. 1080p
Updated Snapdragon 801 chipset – MSM8975AC vs. MSM8974AC
Improved low-light laser-assisted auto focusing
32GB version has more RAM – 3GB vs. 2GB
Bigger battery – 3,000mAh vs. 2,800mAh
FM radio (only for the Euro version)
Galaxy S5 over G3
Screen has superb contrast and sunlight legibility
Higher resolution camera sensor – 16MP vs. 13MP
More compact, lighter
Bigger camera sensor – 1/2.6″ vs. 1/3″
Fingerprint scanner, PayPal certified
Heart rate sensor
Ingress protection – IP67, dust tight
Faster USB – v3.0 vs. v2.0
Korean ingenuity has resulted in features we never imagined we'd see on a portable device – from heart rate sensors and fingerprint scanning to compact screens with resolutions greater than our TV at home. Smartphones have become the pinnacle of technology, an industry that sells in the millions and continues to grow each year.





The LG G3 and Samsung Galaxy S5 get ready to square off
Now we'll be pitting the top devices by two Korean companies at different stages of success – one at the head of the pack with no chance of slowing down; the other clawing its way up, trying to make its mark without necessarily emulating someone else's. Does the G3 have enough to put LG in the fast lane, or will the Galaxy S5 prove too hard to dethrone? Let's find out.
DOWNLOAD CENTER >>

Cynogenmod 11

,

ROM.ZIP(KITKAT)

,

ROM.ZIP(JELLYBEAN)

,

ALL USB DRIVER