Introduction
The premium droids are in combat mode and we are making ourselves comfortable to watch another pair fight it out for a place at the top. We've seen a few already, the newcomer LG G3 itself involved in a couple. The Xperia Z2 has a few under its belt as well, so these two should get straight at it, no time wasted on probing.
LG and Sony have been as good as subscribed to the Android top four but one thing they cannot afford is complacency. Thankfully, their latest flagships are showing none of it. What makes this shootout so special though is the months that stand between them. We're looking at this season's first and probably last Android flagship announced – phablets excluded.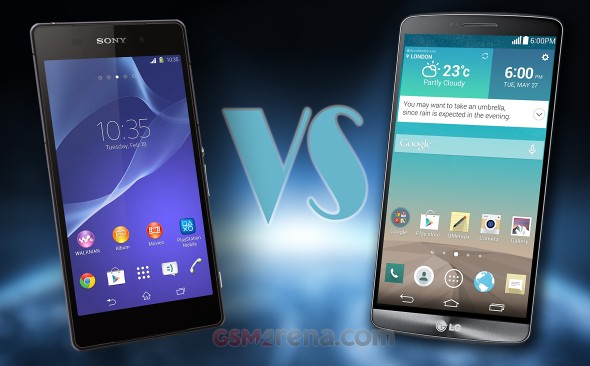 LG took their time to complete a massive upgrade over the G2, the undisputed highlight of which is the QHD screen. And they didn't stop there – the Koreans worked hard in the camera department to bring laser-autofocus and true-tone flash for great imaging experience. A removable battery and a microSD card slot are making a difference as well.
Sony on the other hand didn't make such a splash – one of the potential pitfalls of a six-month release cycle. Admittedly, the Z2 had fewer things to worry about fixing. 4K video recording was added to the 20MP camera, the Omni Balance design with dual glass finish is intact, complete with water and dust resistance – a key selling feature of Sony flagships. The Xperia Z2 was pushed even closer to perfection with stereo speakers, 3GB of RAM and an even bigger battery.
LG G3 over Xperia Z2
Bigger screen – 5.5″ vs. 5.2″
Higher resolution screen – 1440p vs. 1080p
Higher CPU clock speed – 2.5GHz vs. 2.3GHz
Improved low-light laser-assisted auto focusing
Optical image stabilization
Dual-LED true-tone flash
32GB of built-in storage is an option
IR blaster
Xperia Z2 over LG G3
IP58 certification for dust and water resistance
Bigger, higher resolution camera sensor – 1/2.3″ 20.7MP vs. 1/3″ 13MP
More RAM – 3GB vs. 2GB (on the 16GB LG G3)
1080p@60fps and 720p@120fps video recording
Stereo speakers
Bigger battery – 3,200mAh vs. 3,000mAh
ANT+ support
Noise cancelling headphones in certain retail bundles
So, is it the better specs or the right specs? The better looks or the comfortable handling? How do you choose between flagships that go out of their way to make sure you won't have to choose again for at least a couple of years?





The LG G3 and Sony Xperia Z2 get ready to square off
LG G3 brings features you don't see every day, like the QHD screen, OIS and laser-assisted autofocus. It has controls on the back and even an FM radio, which gets omitted more often than not lately.
Sony Xperia Z2 on the other hand is betting on high megapixels and exceptional build, including protection against the elements. There's ANT+ support for pairing with fitness tracking devices, FM radio, and stereo speakers on board too.
These are just pieces of the puzzle though, and what we'll try to do here is look at the whole picture. Buckle up, we hope you'll enjoy the ride.
DOWNLOAD CENTER >>

Cynogenmod 11

,

ROM.ZIP(KITKAT)

,

ROM.ZIP(JELLYBEAN)

,

ALL USB DRIVER