Although OnePlus may still be having trouble getting units of its One flagship into buyers' hands, the company has been hard at work making the One units that are out there even better. The latest software update to the OnePlus One is streaming out now, updating the device to Android 4.4.4 KitKat and adding plenty of bug fixes and software optimizations in the process.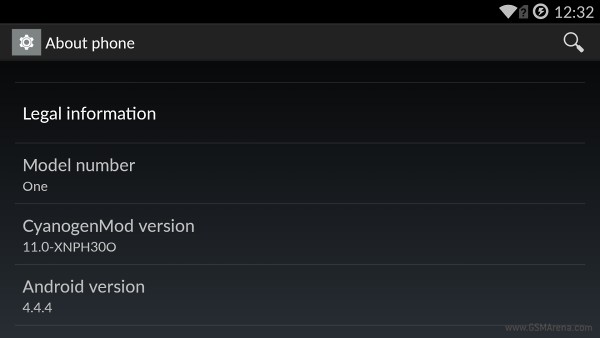 Here is a full list of changes:
Upgraded to Android 4.4.4
Updated to new versions of Google apps
Added Clear Image
Added new (colder) calibration for the screen
Proximity sensor prevents activation of off-screen gestures while in your pocket
Capacitive touch keys supported in the recovery mode
Increased capacitive button illumination
Improved overall stability
Fixed issues with vibration being disabled during Quiet Hours
Fixed lockscreen not updating the track information during music playback
Fixed microphone volume for all formats in the Voice Recorder app
Fixed "OK, Google" not triggering voice search in Google Now
Fixed Viber calls not working
Fixed battery percent not updating in custom lock screens
Fixed PicasaSync
Fixed Camera "O" gesture activating lockscreen instead of triggering camera
Fixed wallpapers not applying in full screen, taking the wrong size when cropping, etc.
Clear Image, another feature borrowed from sister company Oppo, stitches together 10 individual images of a scene to create a more detailed shot than a standard 13MP scene would. While on the Oppo Find 7 this resulted in a 50MP "Ultra-HD" still, the OnePlus One downsizes these samples automatically back to 13MP. For more on this feature, check out this dedicated forum post from OnePlus.
The update should be rolling out to OnePlus One units OTA over the coming days. Meanwhile, for more on the One and its special CyanogenMod 11S Android build, check out our comprehensive review.
Source
DOWNLOAD CENTER >>

Cynogenmod 11

,

ROM.ZIP(KITKAT)

,

ROM.ZIP(JELLYBEAN)

,

ALL USB DRIVER