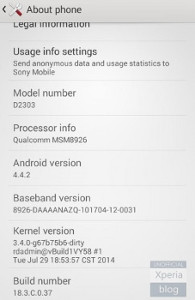 If you own a Sony Xperia M2, here's some good news for you. The update to Android 4.4 KitKat for this device has apparently started rolling out today.
That said, it's still early in the update's life cycle, so it's only been spotted for carrier versions of the M2 in France, Ireland, Israel, Russia, Singapore, and Thailand. And even if you got yours from one of the networks in those places, you may still be in for a wait until the rollout reaches you, keep that in mind.
The new KitKat bits don't seem to have made it to the generic, non-branded, non-carrier sold variation of the Xperia M2 just yet.
The software is only headed to the D2303 LTE-capable model, by the way, at least for now. So at the moment the D2305 and D2306 SKUs are still sans KitKat, as is the dual-SIM Xperia M2 Dual iteration.
Obviously though, now that the ball's rolling, the KitKat update should make it to all of the above in due course.
If your Xperia M2 is the D2303 version, and you get the update notification, know that after installing the new firmware you'll be on Android 4.4.2 and build number 18.3.C.0.37.
Source
DOWNLOAD CENTER >>

Cynogenmod 11

,

ROM.ZIP(KITKAT)

,

ROM.ZIP(JELLYBEAN)

,

ALL USB DRIVER