Introduction
It's a tall order for any midranger to stand out among a myriad of offerings in the market. Both established brands and emerging Asian manufacturers are trying hard to grab a piece of that market spoiling those shopping there for choice. The Acer Liquid Jade S aims to make a name for itself with bold looks, slim waistline and balanced hardware.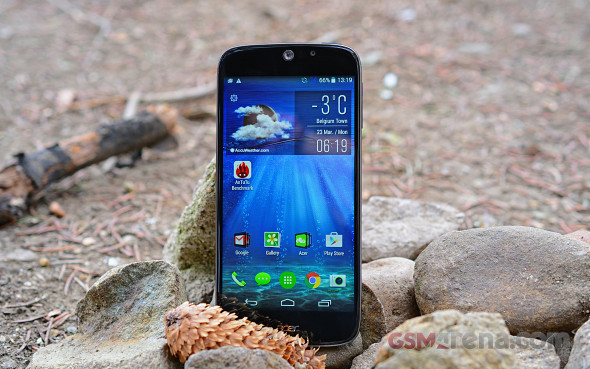 Announced merely six months after the Liquid Jade the S version brings notable upgrades in several major areas. A more powerful chipset, featuring an octa-core processor and a higher-grade graphics processor is the key change, but the doubled operating memory and onboard storage are also important updates. The new SoC is not just about higher performance though, it also brings LTE support to the mix.
Meanwhile, other key features have been retained starting with the 5-inch display. True, it's not FullHD, but qHD resolutions aren't unheard of in the price segment and 720p gives enough density without rising the price too high. The dual SIM capability will be appreciated by a certain type of users, even if the second card needs to fight with the microSD for the shared slot space.
The Acer Liquid Jade S sports prominent styling too. While certain design elements may not be to everyone's liking, it's definitely not just another nameless black rectangle of a smartphone. It's also light and pleasantly thin – a rarity in a price range where build is usually sacrificed at the altar of lower price.
Acer Liquid Jade S key features
Dual SIM slots, quad-band 2G connectivity for both SIM cards, quad-band 3G and Cat. 4 LTE for download speeds up to 150Mbps
Wi-Fi 802.11 b/g/n, hotspot; GPS with A-GPS
64-bit Mediatek MT6752M chipset with an octa-core Cortex-A53 processor clocked at 1.5GHz
Mali T760MP2 dual-core GPU
2GB of RAM, 16GB of storage on board, expandable up to 32GB via microSD card in place of SIM 2
5-inch IPS LCD capacitive touchscreen display of 1,280 x 720 pixels resolution, Gorilla Glass 3 protection
13MP main camera with fast f1.8 lens, autofocus, and LED flash; 1080p@30fps video recording
5MP front facing camera
DTS-HD certified audio
Android 4.4.4 KitKat with thorough customizations from Acer, promised upgrade to Lollipop
FM radio receiver
2,300mAh battery capacity
Compact, light body; striking design
Main disadvantages
Non-removable battery
Power button is in an uncomfortable position
No NFC
You can't have dual-SIM and microSD at the same time
So, as evidenced by the above list, the Acer Liquid Jade S addresses the predecessor's shortcomings and adds up to a convincing smartphone package on paper. The capable hardware is complemented by unusual styling that may not please everyone, but is certainly a conversation starter.






Acer Liquid Jade S official images
With the specs duly rounded up, we headed on to the lab for our customary test routine. We start on the next page with unboxing and hardware inspection.
Standard retail package
The Acer Liquid Jade S arrives in a sleek retail package, mimicking the pattern on the back of the device itself. Removing the sleeve reveals the actual cardboard box, where the patterned theme continues.



Stylish package • Charger, cable and headphones
Inside the box you'll find a pretty standard bundle. You get an AC adapter, which pumps out 1.35Amps at a rather odd 5.2V and a separate microUSB cable. There's also a nice pair of flat-cabled earbuds of the in-ear variety with a single-button remote. A couple of booklets complete the contents of the box.
Acer Liquid Jade S 360-degree spin
The Liquid Jade S measures 143 x 69 x 7.8 mm, which is about average for a 5-inch smartphone. The huge lens on the back sticks out a good 2mm, though, which means it's easier to scratch than most. Perhaps the slim side bezel might give it some protection but that's marginal. The smartphone weighs in at only 116g, so you can easily slip it in a pocket and forget it's there.
Design and build quality
The Acer Liquid Jade S is a very decently looking phone and more importantly one that doesn't lack personality. We have here the Black color option, and simply calling it black is a gross understatement. While the front could go by the ebony designation, the back is nothing like.
When light hits the rear cover, it reveals a fine cross-hatch pattern, the same one present on the box. It's a nice effect, even more pronounced in sunlight, but it is most definitely not black, more like an infinite number of purple shades. The back is not removable, so you can forget about replacing the battery or popping a different style cover, but this is slowly turning to be the norm, and we'll need to learn to live with it.
That aside, the Liquid Jade S is well built and doesn't flex, rattle or creak. Its thinness might however discourage you from excessive bending experiments, because an engineer can only do so much with as little materials.





Acer Liquid Jade S design
Materials are well chosen and offer a good balance between price, appearance and feel. While it's no match for the flagships out there, the Liquid Jade S employs quality plastics, which are not prone to fingerprints – always a plus. The screen coating has also been chosen well, and doesn't instantly turn into a smudgy mess as we've witnessed in other units.
You have an Acer logo below the display and another one centered on the back to state your choice of brand while taking a call. That is, if the observer can take their eyes off the huge circular camera lens on top of the rear end. Another notable design feature is the plughole-style grille towards the bottom end of the back, which houses the DTS-HD certified speaker.
All in all, the Acer Liquid Jade S sports a unique design, which may not appeal to everyone, but is nonetheless a fresh example how a smartphone can stand out without needing overly expensive materials.
Controls
The Acer Liquid Jade S has its controls rather evenly distributed. The top right (when viewed from the front) is the home to the power button. It's a location which may have been acceptable on the 4-inch iPhones, with their dedicated home button in closer reach, but is very much out of place on a 5-inch smartphone where it's the only means to wake up the device.
Moving on, towards the left of the top you'll find the 3.5mm headphone jack, while in between resides the pinhole for the secondary mic. The bottom is home to the microUSB port on the right and the primary microphone is even closer to the corner.





Power button, 3.5mm jack and secondary mic on top • microUSB port and primary mic on the bottom
The right side houses the volume rocker, which has a ridge on the "up" section for tactile feedback. The left side houses the SIM card tray, which requires nothing but a fingernail to pry out. That's not to say, that comes off too easily, but it may actually develop that habit with prolonged use. The tray accepts nano SIM cards only, and slot 2 is shared with the micsoSD, so you get either dual-SIM functionality or microSD expansion – not both at the same time.





Volume rocker on the right • SIM card tray on the left
Round the back you get the camera lens bump we already mentioned, flanked by a single LED flash. At the far end is the round speaker grille. The earpiece on the front continues the plughole theme and is joined by the 5MP front camera and proximity/ambient light sensors.





Back cover with lens bump and speaker grille • Front camera and sensor next to eapiece
Handling
The Acer Liquid Jade S is amazingly light and you can slip it in a pocket and forget about it altogether. The smartphones is also pretty thin and that coupled with its rounded edges means that it doesn't create unsightly bulges in your jeans.



Acer Liquid Jade S in the hand
The power button placement requires either a two-hand operation or moving your hand from its natural position to somehow reach the top with your index finger. Hardly the most convenient solution.
The back surface, while not glossy, doesn't really have much texture and is pretty slippery. Combined with the stretching exercises needed for each lock/unlock action, the Liquid Jade S is at a great risk of being dropped more often than its owner would like.
Display
The Acer Liquid Jade is equipped with a 5-inch IPS LCD display with a 1,280 x 720 pixel resolution. Stretched over this diagonal, that results in the decent 294ppi density. It's not class-leading numbers and competitors can be found, which sport FullHD panels. Then again, the hugely popular Samsung Galaxy Grand Prime gets away with 540 x 960 pixels at the same-sized screen, so it's not among the worst by any means.
The display gets a Gorilla Glass 3 treatment for resistance to scratches and shattering. The oleophobic coating does a decent job at keeping fingerprints away and is relatively easy to clean. There's no dedicated glove mode on board, so keep that in mind if you live in colder climates.
A Reading mode is provided, which aims to negate the adverse effect of blue light on your eyes. It's adjustable from the display settings and pumping it up turns the image progressively greener. Our guess is that this feature will remain off most of the time.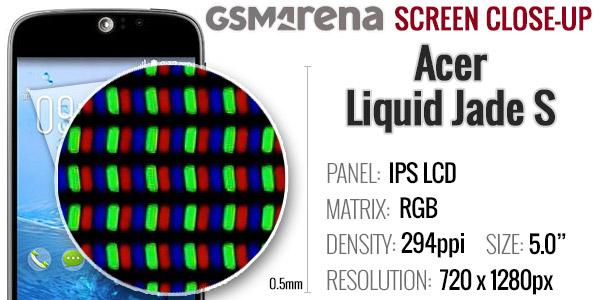 We ran the usual set of test, and the Liquid Jade S managed to surprise us, but not in a good way, sadly. The white luminance at the 100% brightness setting was a mere 255cd/m2, one of the lowest values we've ever measured. It's of little consolation that the low black value helped in achieving a decent contrast ratio.
It's not impossible, that this was an issue limited to our unit – given that the 50% brightness setting didn't produce much lower results. We'll investigate the matter and update the review if needed.
The 50% setting is actually more like 75% and at least that is on par with the competition. Contrast remains virtually the same when you move the brightness slider halfway.
On the positive side, viewing angles were quite good, and despite some contrast compression, text remains easily readable even when the phone is viewed at extreme angles. Colors were punchy, yet true to life when viewed head-on, and don't get too washed out when looking from the sides.
Display test
50% brightness
100% brightness
Black, cd/m2
White, cd/m2
Contrast ratio
Black, cd/m2
White, cd/m2
Contrast ratio
Acer Liquid Jade S
0.21
195
918
0.28
255
921
Lenovo Vibe X2
0.16
188
1196
0.38
447
1188
Huawei Honor 6
0.13
125
943
0.62
507
812
Samsung Galaxy Grand Prime
0.25
194
785
0.56
426
756
Samsung Galaxy A5
0
191
∞
0
398
∞
Sony Xperia Z1
–
–
–
0.38
580
1513
LG G2
0.1
149
1522
0.45
667
1495
Lenovo S90 Sisley
0
119
∞
0
344
∞
ZTE Blade S6
0.26
248
986
0.46
457
946
Motorola Moto G (2014)
0.24
253
1039
0.43
413
968
Sunlight legibility was rather poor, which was to be expected considering the extremely dim overall properties of the display. You'll be better off staying in the shade, as the poor brightness can only do so much.
Sunlight contrast ratio
Sort by Label
Sort by Value
Expand
Nokia 808 PureView

4.698

Sony Xperia U

1.758

Meizu MX3

1.754

LG Optimus G

1.753

Sony Xperia T2 Ultra

1.74

Sony Xperia Z3 Tablet Compact

1.735

Acer Liquid Jade S

1.734

Sony Xperia SP

1.733

LG Optimus 4X HD

1.691

Oppo Find 7

1.691

HTC One V

1.685

BlackBerry Q5

1.682

Samsung Galaxy mini 2

1.114
Battery life test
The battery inside the Acer Liquid Jade S is rated at 2300mAh, and that is an average capacity for a midrange 5-inch smartphone. Both the Samsung Galaxy A5 and the Lenovo Vibe X2 come with the same amount of juice, while the Huawei Honor 6 packs a whopping 3100mAh battery.
The endurance results were a mixed bag. On the positive side, 3G talk times were respectable at close to 17 hours.
We also run a standby battery endurance test, which is not shown in the scorecards below, but is a part of the overall rating. With a single SIM inside the phone lasted just shy of 10 full days in standby. Pop in a second SIM card and standby time drops to a bit more than 7 days, which is still an ok performance.
On the other hand, screen-on times were downright disappointing. The browser test drained the battery in less than 5 hours, and video playback longevity was even lower. To translate into real-life numbers the Liquid Jade S won't make it to two full days if you do an hour each of 3G voice calls, web browsing, and video playback a day. Heavier use will likely have you looking for a charger before the end of the day. The poor screen-on times render the standby numbers pretty much irrelevant and that shows in the two overall endurance ratings below.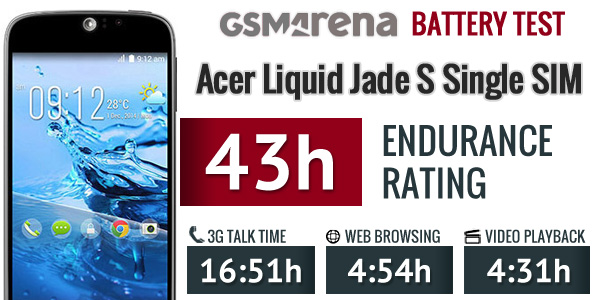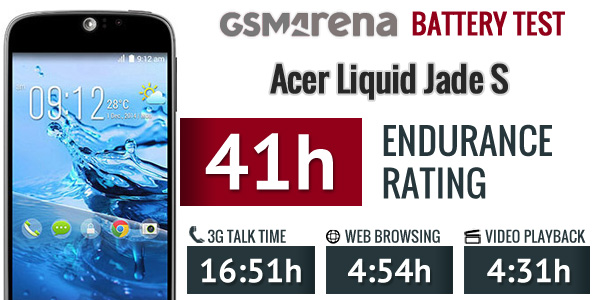 Meanwhile, the Lenovo Vibe X2, which doesn't fare too well either, managed a much better 8-hour web browsing stamina. The Honor 6 with its 3,100mAh battery is in a league of its own with 13 hours of screen-on time.
Connectivity
The Acer Liquid Jade S has all the connectivity basics covered and even has some speedy support on top of that. First and foremost, it's a dual-SIM device, albeit with a few compromises. SIM 1 gets quad-band 2G, dual- or quad-band 3G, and triple- or quad-band Cat.4 LTE, depending on your region. The second SIM is limited to 2G only, and shares a slot with a potential microSD card.
In terms of local connectivity, you get Wi-Fi 802.11 b/g/n with Wi-Fi direct and hotspot functionality for sharing your internet connection with up to 8 other devices. Wi-Fi only works on the 2.4GHz band, though, and there's no DLNA capability.
Bluetooth is in its 4.0 version, but there's no NFC functionality. There's a GPS receiver with A-GPS capability and a compass sensor. An FM radio receiver is also on board.
A standard issue microUSB port sits on the bottom of the device, but it's not loaded on features. Aside the obvious charging purposes, it can be used for data transfer to your PC, but there's no OTG functionality, let alone MHL output. The Liquid Jade S has a regular 3.5mm headphone jack.
User interface
The Liquid Jade S comes with the last pre-Lollipop version of Android, KitKat 4.4.4. Acer saw areas where Google's OS had room for improvement and the interface is quite heavily customized. For a quick glimpse of the UI check out the brief video below:
Pressing the power button lights up the display and the Liquid Jade S greets you with Acer's take on a functional lockscreen. It shows a combined clock and weather widget on top for a quick update on when and where you are in the world. The liquid concept is continued with a wave effect which simulates that your phone is half full of water (or half empty, depending on your view of the world).
A host of shortcuts is at your disposal, which copies the dock on the homescreen, for quick access straight from the lockscreen. If you just want to unlock the phone you have to swipe from the padlock or any other empty space on the lockscreen. Google Now can also be called upon with an upswipe from the bottom edge.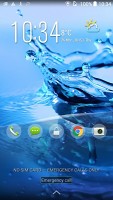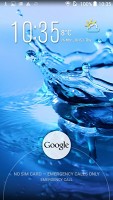 Acer Liquid Jade S custom lockscreen
Past the lockscreen you arrive at a pretty standard homescreen with the usual arrangement of onscreen buttons. Google Now can be accessed from here as well with a tap and hold on the home button.
A set of four app shortcuts sit at the dock with access to the app drawer in the middle. You can't change this arrangement and if you choose to have 3 icons, they don't redistribute evenly. You do get folder support, though.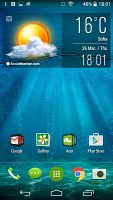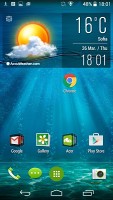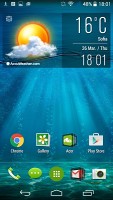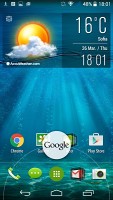 Acer Liquid Jade S homescreen
The Liquid Jade S lets you have up to nine homescreens, and you can access their settings with a pinch gesture. From there you can add, remove and rearrange those and set an arbitrary one as Home. A number of transition styles are available and the homescreens can be cycled or not, depending on your preference.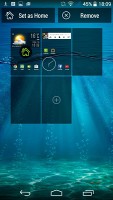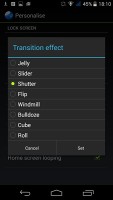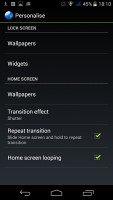 Homescreen customizations
The Liquid Jade S lets you have up to nine homescreens, and you can access their settings with a pinch gesture. From there you can add, remove and rearrange those and set an arbitrary one as Home. A number of transition styles are available and the homescreens can be cycled or not, depending on your preference.
The notification shade is one of the areas where Acer's touch is most noticeable with a thoroughly redesigned set of toggles. Other than that the features are pretty standard, and a single-finger pull-down reveals 5 toggles and the list of notifications. Swiping with both fingers opens the entire array of toggles with a direct shortcut to their settings, where you can rearrange them and chose which 5 are immediately available.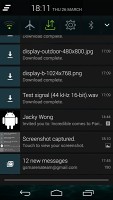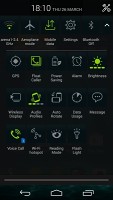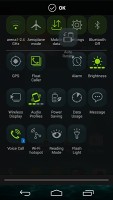 Notification shade
The task switcher is another modified aspect of the UI with added functionality. It displays up to nine running apps in a grid of thumbnails, and swiping a thumbnail away closes the app. A "Remove All" button is present as well.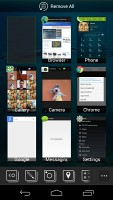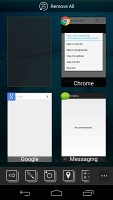 Task switcher
On the bottom of the task switcher you get a strip of what Acer calls "Float apps", i.e. apps that open in a window, on top of whatever else you have on the screen, much like Sony's small apps. You get a host of float apps, including a quick note app and a calculator, but also a windowed view of the camera app and the built-in browser. Some float apps can be resized, while others are fixed-size. Only some apps can be opened in this fashion, but a number of widgets are available too.
Additionally you can opt for a floating bar of buttons which double the back/home/task buttons for simplified single-handed use. The bar comes in two sizes with the larger one offering a shortcut to the notification shade and another one for locking the device without reaching for the power button.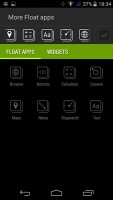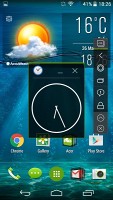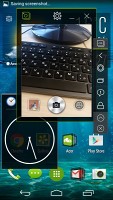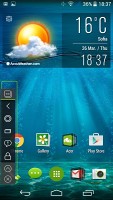 Float apps • Control bar
The app drawer is a more standard affair with a familiar 4×5 grid of apps, which can be sorted by name, date or frequency of use. Swiping right past the apps you get to the widgets, but once you run out of those, you have to swipe back left to get to get to the apps, as there's no cycling in the app drawer.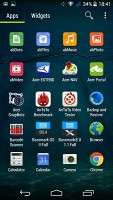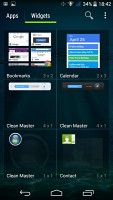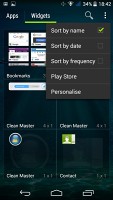 App drawer
Finally, Google Now integrates with your Google account and if you give it access to your daily routine, internet searches, email, etc. and give you information relevant to your interests and daily needs.
It provides traffic information to your work or home, knows the scores of sports teams you follow and gives you the weather forecast for your location. It's great for at-a-glance info, but can handle voice input as well. It also has a dedicated homescreen/lockscreen widget.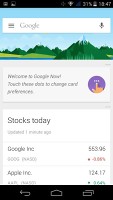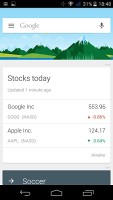 Google Now
DOWNLOAD CENTER >>

Cynogenmod 11

,

ROM.ZIP(KITKAT)

,

ROM.ZIP(JELLYBEAN)

,

ALL USB DRIVER