Introduction
Another Chinese flagship but with a twist. If vivo rings a bell at all, it's most probably the X5Max, the world's slimmest phone. Not a bad thing to be known for but vivo isn't just about looks. This Chinese maker isn't a discounter either – vivo is more like Oppo, less like Xiaomi.
It is a limited lineup where most of the recent models do stand out in one way or another, helping vivo build a reputation as a premium phone manufacturer. vivo is known for experimenting with imaging and audio technology and using components that you don't get every day in phones made in China. The vivo Xplay3S was cheered by audiophiles and the Xshot we're about to review is a flagship cameraphone.
The vivo Xshot is an exquisitely built phone with premium finish, formidable specs and a camera setup which almost puts it in a league of its own.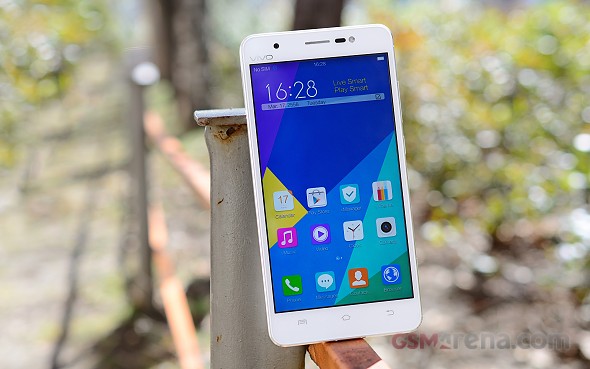 The vivo Xshot is available in two versions. One is powered by a Qualcomm Snapdragon 801 SoC, with four CPU cores clocked at 2.3 GHz, 3GB of RAM and 32GB of storage. The other, lighter version packs a Snapdragon 800, 2GB of RAM and 16GB of inbuilt memory. Other than that, the two handsets are identical. Both variants are typical 2014 flagships – which isn't necessarily a criticism. After all, the vivo Xshot was released last summer. Similar to a Samsung Galaxy Note 3, with a duly adjusted price.
Key features
5.2″ 16M-color 1080p IPS LCD capacitive touchscreen
Quad-core Qualcomm MSM8974AA Snapdragon 801 or Snapdragon 800 at 2.3 GHz, 2/3 GB RAM and Adreno 330 GPU.
13MP camera with 4K video, OIS, f/1.8 and dual-tone flash; 8MP, wide (84 degree) front-facing camera with LED flash and 720p video.
Dedicated two-stage camera shutter button.
16GB of built-in storage and a microSD card slot
LTE Cat. 4 (150Mbps), Wi-Fi a/b/g/n, GPS/GLONASS receiver, Bluetooth v4.0
Standard 3.5mm audio jack
Accelerometer, proximity sensor, gyroscope and compass
Active noise cancellation with a dedicated mic
2,600mAh non-removable battery
Main disadvantages
Stuck on Android 4.3 Jelly Bean
Non-removable battery of rather small capacity
No WiFi ac support
UI can be confusing at times, suffers from bad translation
No Full HD video on front-facing camera, despite the 8MP resolution
Graphics are courtesy of Adreno 330, so quite a lot of computing power there as well. The Xshot is equipped with a 5.2-inch IPS LCD panel, of Full HD resolution and 424ppi. It is sharp and clear, but quite reflective at times.
The camera setup though is undoubtedly the main entry on the specs sheet. The Xshot packs an ambitious 13MP sensor, complete with a f/1.8 aperture, optical image stabilization and 4K video recording capabilities. This one should be able impress at low-light shots and we can't wait to take it out for a spin.
The front-facing shooter is very nice as well at 8MP and it even has its own dedicated LED flash, so selfies should also come out quite nice as well.
The vivo Xshot is a single-SIM LTE-enabled smartphone. It runs what is technically Android, but about as custom as it gets. vivo's own custom version of Android is called Funtouch OS. The version is 1.2 and is based on Android 4.3, so there is definitely room for improvement there. Other than that, the GUI is really gorgeous and clean with a distinct Apple vibe, but not too much, like we've seen in so many other Chinese phones. vivo has thrown in a few nice air gestures and a timeline of user interactions, but there are still some rough edges to polish.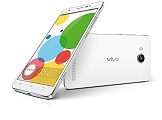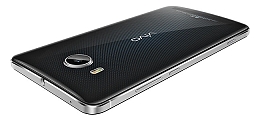 vivo Xshot official images
With that in mind, we're about to start exploring this Chinese offering. Coming up next is the usual unboxing and hardware checkup.
Unboxing
The vivo Xshot comes in a square box, pretty spacious by today's standards. The package is made of very durable cardboard, so shipping damage should not be an issue.
Inside the all-white box, there is a tray that houses the actual phone and underneath it, four dedicated compartments, coated in plastic that hold quite a few goodies. The vivo Xshot comes with a powerful 2A A/C adapter, a white microUSB cable and cool looking ear-buds, which are separately packaged.




The vivo Xshot has a luxurious, stylish package
vivo has a reputation of delivering exquisite audio and the bundled vivo XE600i headphones look quite up to it.
Another thing vivo has thrown in the bundle is a transparent bumper case. A SIM and microSD eject pin is also included. All in all, vivo has cut no corners with the packaging and the accessories add to the premium feel of the Xshot.
360-degree spin
The vivo Xshot is a thicker than its record-breaking sibling, the vivo X5Max, but at 146.5 x 73.3 x 8mm it's still nicely compact. Its shape and trim really help this feel as they make it appear slimmer than it actually is. The vivo Xshot tipped the scales at 148g.
Design and build quality
The vivo Xshot is stylishly simple. The materials used and the build quality are both superb. The body is mostly plastic, with the notable exception of the metal frame that wraps the device all around. It has a very nice matte chrome look with two small sloping edges towards the back and the front, which both share a lighter, shinier finish.
This little accent really makes the phone stand out and is also quite useful for getting a firm grip. In fact, there are quite a few subtle touches on the vivo Xshot, quite elegantly executed.





The vivo Xshot looks incredibly stylish
The metal frame gets thicker around the top and bottom, really accenting the slightly curved back. It is also complete with four small plastic inserts – two to trace the USB port and another pair near the top of the phone, on either side.
According to vivo's website, the Xshot is only available in white, just like the review unit we have. A quick online search, however, reveals what appears to be a black version with quite an interesting pattern, which almost looks blue under the certain lighting.



The Xshot is officially available in white, but a black version can also be spotted online
The vivo Xshot feels very good in the hand and also pretty sturdy. There are no apparent build quality blunders, everything is nicely put together with no cracks or rough edges.
As far as materials go, the plastic in question feels good to the touch, and the matte finish on the back is quite durable and does not catch fingerprints easily.



The vivo Xshot in the hand
Controls
The vivo Xshot boasts a 5.2-inch Full HD IPS LCD screen with 424ppi. It is quite sharp and crisp and does a splendid job but at the Xshot's price point, an AMOLED screen would have been a lot better. The bezels around it are quite thin and the vivo Xshot offers a pretty good screen-to-body ratio of 69.4%.
Above the screen, vivo has created a sort of a mess. The earpiece is crowded by the proximity and ambient light sensors, and the front-facing camera. The phone also has a front-facing LED flash to make the space even busier. The sensors and flash are right beside the speaker, on the right, while the camera is way off to the left. The LED indicator light is even further to the side.
Right underneath the display, we find three capacitive buttons with a very subtle silver trim and nothing else. These are pretty much standard: Menu, Home and Back left to right.



The top bezel is kind of disorganized
Going round the device, we find the left side mostly empty, except for a single ejectable slot, which houses both the SIM compartment and the microSD tray. It looks pretty flush, but we definitely have a grudge with it. The locking mechanism seems to be a little loose and the cover rattles. This would be barely noticeable, but it does make a very distinct metal rustling sound when shaken. Hopefully, this is a unit-specific problem.



The left side of the vivo Xshot houses the SIM and SD card tray.
The right side is where the volume rocker and Power/Lock button are, as well as the dedicated camera shutter button. It is nicely positioned near the bottom of the device and is within comfortable reach when shooting in landscape orientation. It has a proper half-press, a thing that modern flagships have sadly long given up on.




The right side features the volume rocker, Power/Lock button and dedicated shutter key
The 3.5mm headphone jack is placed on the top of the device, dead center and is accompanied by the noise-cancelation mic.



The top hosts the 3.5mm headphone jack and noise canceling mic
The bottom of the phone only features a microUSB port and a microphone. No speakers or screws are to be seen.



The bottom is equipped with a MicroUSB port and a microphone
Going round the back, we find the 13MP camera lens dead center at the top with a dual-tone LED flash right next to it. All of the electronics to power the OIS-enabled, f/1.8 camera really take up space and the camera module is protruding quite a bit.





The back is very stylish with a premium finish
Other than that, the back of the vivo is very slick and nice to the touch. The white finish is superb and the subtle curve makes for a great feel in hand. The only other thing found on the back, besides the logo, of course, is a speaker grille.
A rear-mounted speaker can get easily muffled, but the Xshot's rear curve seems to have addressed that issue. The camera bump also helps lift the handset off the surface it's resting on – we just hope it is scratch-resistant.
Display
The vivo Xshot is equipped with a 5.2-inch IPS LCD display, with a resolution of 1920 x 1080-pixels. Colors are nice and warm, but could by a little more saturated. Viewing angles are also nice – among the better we have seen lately.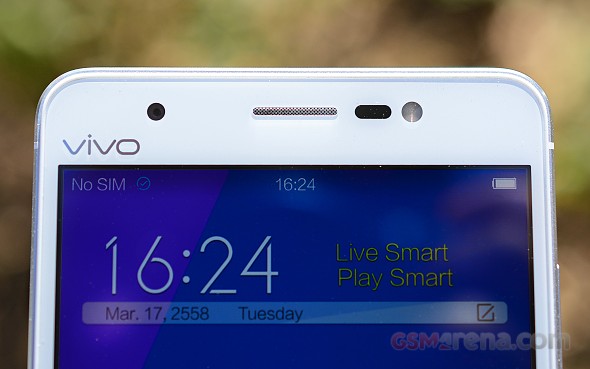 Sharpness is of no issue at 424ppi and even the smallest font sizes are no challenge at all. One small complaint we have is that a black strip around the screen hasn't been covered by the bezel. Visible at all times, it is slightly off-putting.
The display matrix is standard RGB.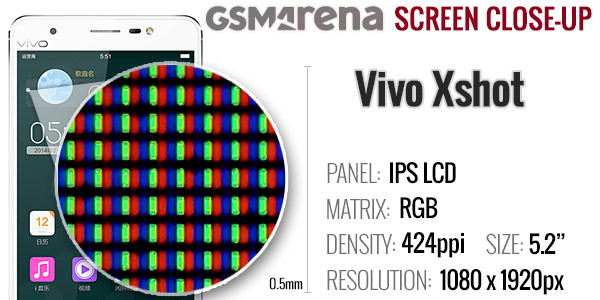 As far as contrast goes, the vivo put in decent if unspectacular numbers on both 50% and 100% brightness. Brightness is high, but blacks are not particularly deep, which hurts contast.
Display test
50% brightness
100% brightness
Black, cd/m2
White, cd/m2
Contrast ratio
Black, cd/m2
White, cd/m2
Contrast ratio
vivo Xshot
0.37
315
862
0.58
534
917
Oppo Find 7
0.22
248
1135
0.4
448
1123
Oppo Find 7a
0.33
280
842
0.68
580
852
Samsung Galaxy S5
0
274
∞
0
529
∞
Samsung Galaxy A7
0
175
∞
0
349
∞
Samsung Galaxy Note 3
0
149
∞
0
379
∞
Samsung Galaxy Note 4
0
291
∞
0
399
∞
Xiaomi Mi 4
0.17
164
940
0.73
679
929
Sony Xperia Z3
–
–
–
0.65
866
1333
LG G3
0.14
109
763
0.72
570
789
OnePlus One
0.39
317
805
0.75
598
799
HTC One (M8)
0.2
245
1219
0.46
577
1256
Motorola Moto X (2014)
0
167
∞
0
358
∞
Oppo N3
0.31
290
931
0.59
551
937
Sunlight legibility is quite good – the reflectivity of the screen is about average, but the high brightness still helped the Xshot to a good score in our test.
Sunlight contrast ratio
Sort by Label
Sort by Value
Expand
Nokia 808 PureView

4.698

Motorola Moto G 4G

2.546

HTC One Max

2.537

Nokia Lumia 720

2.512

HTC One

2.504

Motorola Moto G

2.477

vivo Xshot

2.465

Sony Xperia Z

2.462

Xiaomi Mi 4

2.424

Samsung Galaxy S III mini

2.422

Lenovo Vibe Z2 Pro

2.416

LG G Flex

2.407

Samsung Galaxy mini 2

1.114
Battery Life
The vivo Xshot packs a 2600mAh battery that is non-removable.
The phone did okay in our traditional battery test, scoring an overall endurance rating of 57 hours.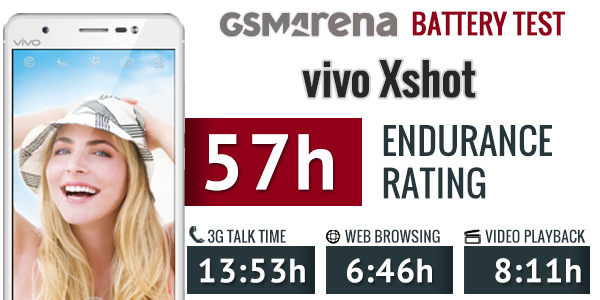 Talk time and video playback are perfectly normal, but browser performance was a disappointment. The custom application is really taking its toll on the battery.
Our proprietary score also includes the standby battery draw, which is not featured in the scorecard.
Our battery testing procedure is described in detail in case you want to learn more about it.
The Xshot has a power-saving option called "Super saver". It is only accessible through the power options menu, which appears when you hold down the power button. This is one of many items, which seem to be oddly placed in the OS, but more on that later.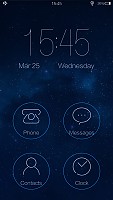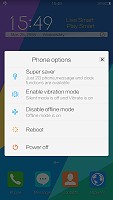 Super saver mode really cuts down on battery usage
What it does is, essentially turn the vivo Xshot into a feature phone. The screen gets dimmed and all that remains accessible is the 2G voice calling functionality, messaging and the clock.
Connectivity
The vivo Xshot comes equipped with quad-band 2G/GPRS/EDGE and tri-band 3G with HSPA (up to 42.2Mbps of downlink and 5.76Mbps of uplink). As far as LTE goes, it is important to once again note that only the 32GB version supports both FDD-LTE and TD-LTE. Otherwise, the Snapdragon 800 and 801 both offer Cat4 150/50 Mbps speeds.
Local connectivity is covered by a single-stream Wi-Fi a/b/g/n, as well as Bluetooth 4.0. It is kind of disappointing that vivo hasn't opted for a WiFi ac modem, especially, considering the price the Xshot is going for. GPS and GLONASS support is enabled. There is no FM radio, NFC or an IR port.
User interface – Funtouch OS is sleek but a little disorganized
The Xshot runs on vivo's own custom OS – Funtouch. It is essentially a heavily-modified version of Android and thus supports all of its apps. Sadly, it is still based on Android 4.3 Jelly Bean, which is now quite dated.
Other than that, the UI is very slick with a distinct iOS vibe, especially in various menus. There is, however, no blatant copying. And, while a lot of Apple style and GUI elements are easily detectable, vivo has created a feel it can call its own.
There are a lot of interesting features thrown on top of Android by the manufacturer, but there are also some rough edges. Menu arrangement is quite chaotic in the Xshot and a lot of options are hidden away in obscure places, you wouldn't think of looking. Like the accessibility settings, for example, which are tugged away under "more settings", while the one-handed operation, smart motion options and even "Glove mode" are placed in plain sight on the main settings screen.
On the upside, Funtouch is definitely clutter free and comes preloaded with only a few essential applications and a set of Google apps with no bloatware in sight. All the additional functions work nicely and the phone really offers a smooth and pleasant user experience.
Check out a quick walkthrough of vivo's custom android work in the video below.
Funtouch is definitely big on customization and when we say big, we mean that there is an almost unbelievable amount of things that can be tweaked about the way the OS looks. Starting from the lock screen, the factory default option offers a slide-up unlock and is complete with a clock widget as well as a little animated avatar, nickname and slogan. The last three are completely customizable down to the text font and color.
Swiping left on this screen brings you to a music interface, while swiping right, fires up the camera.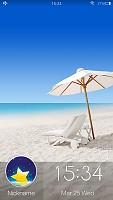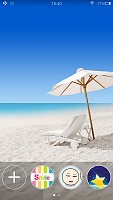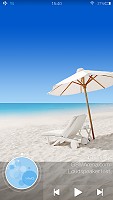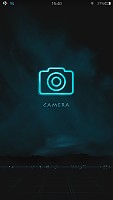 Default lock screen
This, however, is only one of the countless lock screen options. Each choice comes with a different unlock option, widgets, shortcuts, fonts, as well as little settings under the hood. If the built-in options are not enough for you, there is a vast online library. The sky is the limit, when it comes to lock screens and variants range from very traditional and straight-forward, all the way to childishly cute ones, like a happy bunny, throwing its carrot in the air when you unlock the screen.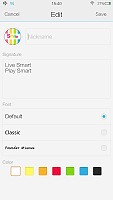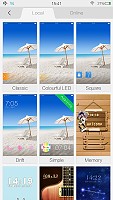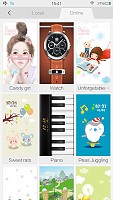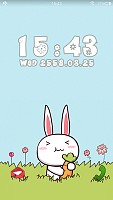 More locks screen options
Beyond the lock screen, we find swipeable homescreens, complete with widgets. vivo has opted out of a dedicated app drawer, so adding new screens is the only real option for storing more apps. With no app drawer, anything you install pops up on the homescreen.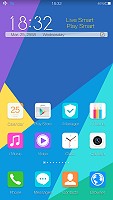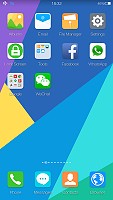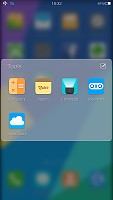 The homescreen doubles as an app drawer
You can group the apps in folders, which come with a very nice transition and background blur effect.
Anyway, a long press on the homescreen gets you to the management screen – from there, you can rearrange, delete and add panes. There are no dedicated add or delete buttons in the menu. Instead, there is always an extra empty screen that appears in the management area and if something is placed on it, it becomes active as a new screen. Removing it is the reverse procedure.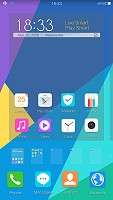 Managing the homescreen panes is rather difficult
Managing applications can also be done from this mode, which is made apparent by the slight jitter that is applied to all the shortcuts, much like the one in iOS. Icons can only be rearranged, there is no shortcut for actually uninstalling an app. That is done only through the app manager.
Tapping the Menu button on the homescreen gives you quick access to color schemes, wallpapers, effects and widgets. It turns out. The lockscreen customization was just the tip of the iceberg. Themes, wallpapers and slide effects are all customizable and there is even something called scene. It is essentially a separate interactive desktop interface, which artistically rearranges your widgets and app icons and creates a beautiful live scene from them.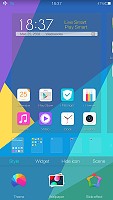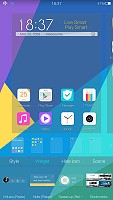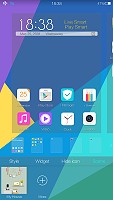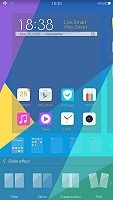 Quick interface settings can be applied straight from the home screen
The settings menu has a separate section entirely devoted to this kind of customization. It is called "mix-match" and it is a central hub, from which you can tweak all of the aforementioned aspects, download new content and simply make your user interface as personal as possible. We really see all this freedom easily appealing to a younger audience.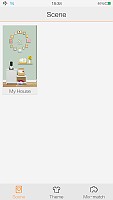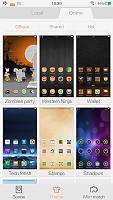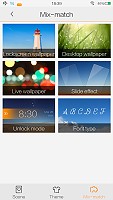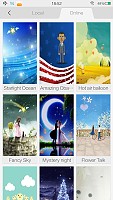 If you want to dive further into customization there is the dedicated "mix-match" hub
The notification area on the vivo Xshot is slightly different from the stock Android one. Here, it is all white and pretty clean from clutter. Pulling it down once reveals the notifications. Right above them there is the standard time and date widget along with a shortcut to the settings menu.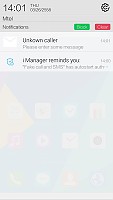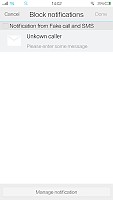 Custom notification shade
There are also two small buttons in the top-right corner. One of them clears all of the notifications, while the other can be used to block certain apps from throwing notifications in the first place. In reality, the button is nothing more than a shortcut to the app manager, along with an explanation of how to take away notification privileges.
It becomes immediately apparent, that something is missing from the notification shade. It is simply too clean. Mainly because the quick toggles have been moved to another shade which can be pulled up from the bottom of the homescreen.
It holds the brightness slider, and various toggles, which can be customized. Quick settings can be rearranged and added or removed through a dedicated menu, so you are free to move things about as you see fit. Among these is a "speed up" function, which frees up resources on the phone almost instantly.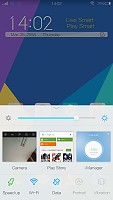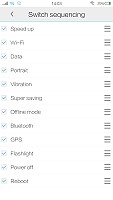 Separate shade for toggles and brightness, which doubles as recent apps
Quite cleverly, this interface also doubles as the recent apps switcher. So, when you hold the home button, the same shade pops up to switch between applications. To close a recent app, you just swipe it up. Sadly, there is no close all button.
Besides the standard navigation scheme, vivo has thrown in an elaborate array of special motions and gestures to control the phone. Options are so plentiful, that you can easily get confused by the menus themselves, let alone remember every shortcut you set. But if gestures are your thing, the Xshot definitely has you covered.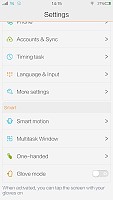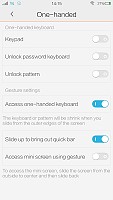 "Smart motion" and "One-handed" options in the settings menu
You can wake the vivo in by tapping the screen, swiping it or even simply looking at it. There are also gestures to fire up a specific application upon waking the device, like drawing a "C" on the screen to open the dialer or an "M" for the music player. The list goes on and on.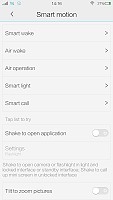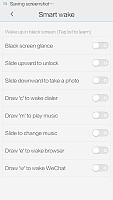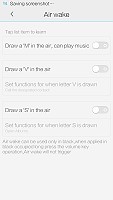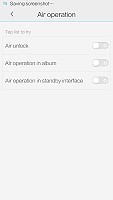 "Smart motion" gestures
Most of the above functionality can also be achieved by drawing different letters with the phone in the air or simply shaking it. Launching custom apps is also possible with these shortcuts. There are also quite a lot of multimedia control shortcuts, both in-app and while the screen in off. Zooming images, for example, can be achieved by tilting the phone and songs can be skipped by swiping on the display, even when in is turned off.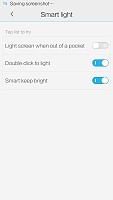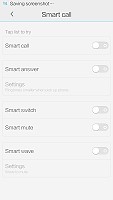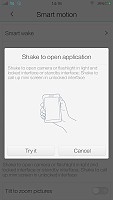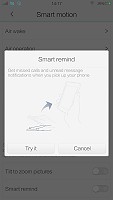 Even more customizable "Smart motion" gestures
All of these extra control schemes take customization to a whole new level. The vivo Xshot can not only look precisely the way you want, but also behave accordingly. The only grudge we have with the gestures is that, once again, their settings menus are a mess and getting around is quite hard.
Funtouch does not include a dedicated button shortcut for accessing Google Now, like most current Android phones have, but it is still thrown in the mix. It can be set as a widget for quick launching, or perhaps, even assigned to one of the aforementioned gestures, if that is your thing.
Google Now is executed in beautiful material design style. You can manage your daily routine and all your interests by using the service.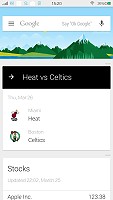 Google Now
Overall, the vivo Xtouch runs very smooth and behaves will with vivo's own Funtouch OS. One thing is for sure, though – it is definitely not the Android most of us are used to. It is clear that the company has put a lot of thought and effort into the OS and in a lot of aspects, it does make for a better-than-stock experience. However, getting around the veritable mess in menu placement is quite hard, so the GUI is definitely not for seasoned Android users, who are accustomed to Google's own layout and structure.
DOWNLOAD CENTER >>

Cynogenmod 11

,

ROM.ZIP(KITKAT)

,

ROM.ZIP(JELLYBEAN)

,

ALL USB DRIVER