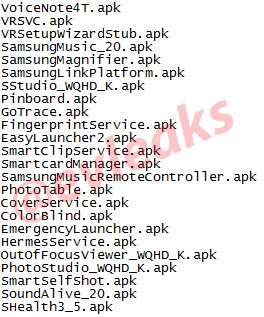 evleaks is at it again and this time the inside scoop are some interesting APKs for the upcoming Samsung Galaxy Note 4 phablet.
The APKs can give us a good hint at some upcoming features that'll be avaible on the phone. Some of these seem par the course and utterly mundane: "VoiceNote4t" and "SamsungMusic_20″ are fairly self-explanatory, but there are a few APKs on here that are interesting.
The "SStudio_WQHD" APK suggests that the Galaxy Note 4 will be packing a QHD display. "SHealth3_5″ just reaffirms Samsung's commitment to its health-tracking software, along with the Korean manufacturer's commitment to photography as evinced by its inclusion of the "OutOfFocusViewer", "PhotoStudio", and "SmartSelfShot" APKs.
There are some enigmatic ones as well, such as "HermesService" and "VRSVC", which could very well be support for Samsung's upcoming VR headset.
There's no concrete date set for the Galaxy Note 4, but any leaked information suggests that the release date shouldn't be too far off.
Source
DOWNLOAD CENTER >>

Cynogenmod 11

,

ROM.ZIP(KITKAT)

,

ROM.ZIP(JELLYBEAN)

,

ALL USB DRIVER